Volunteer Your Time.

If you live in the Reed City, Michigan area, and would like to get involved, we could always use the help! Please contact us by regular mail, or e-mail us at the addresses at the bottom of the page. To send e-Mail from our site, go to the "Contact Us" page.
Register for an Upcoming Event
Make a donation

Any endeavor needs funds to survive. We do not receive any funds from any public or private source, such as public or private grants or support from big business. Our operating funds come entirely from events and fundraisers, and donations from private individuals. We gratefully accept donations of any size.

We hope in the near future to be able to fund an outreach program. There are many animals and their owners who need help of some kind, from dog houses, to food, to funds for vet care. we would like to be able to help. We can do so only if the funds are available.
Write a letter

If you live in a county or state that allows the surrender or sale of pets from pounds or shelters, to class B dealers or research facilities, write to your officials asking them to stop this barbaric and outdated practice.
Sign a petition

Petitions are frequently circulated in many areas. They are also posted on the web. Look for these petitions and sign them if they endeavor to change animal welfare laws for the betterment of the animals.
Educate yourself and others

Learn all you can about animal welfare issues. There are many organizations, nationwide, working to benefit animals and their owners. Most if not all provide informational materials. Send for these materials, learn from them and distribute them in your area. Help spread compassion towards animals world wide!
Help an animal

Look around your own hometown. Do you see an animal in need? One, which is injured? Take it to a vet and offer to pay part of the fees. Abused or neglected? Call your officials and demand something be done, then follow up. Does the owner need help? Get involved! Remember that animal abuse is often a symptom of people abuse. Animal appears neglected? Sometimes the owner needs help too. Maybe they are having financial problems, or too ill to care for themselves much less the animals. Offer your help, you might save a human life along with the animal's life!
Sometimes the best thing for all is to find a new home for the animal. Do what you can. Beware though, that "free" ads often bring "bunchers". These are people who prey on unsuspecting owners, offering good homes; only in reality they will sell the pet to a research dealer or facility.

Add a Special Message and/or Photo of your pet to our Pet Memorials Page
Click below for next page.
Mail a letter and stamp out pet overpopulation
NEW SPAY / NUETER POSTAGE STAMP DUE SEPT 2002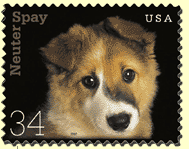 Membership Information
If you are interested in becoming a member to support our efforts, we offer two levels: Active Memberships-$10 annually, are those who participate. Supporting Members-$20 annually, no participation required. Also, one-time donations of any amount can be made. We are not tax deductible at this time, however it is only with your donations that we are able to fund our programs.

Donations can be sent to our mailing address located below or on our "contact us" page.
Write a Letter-Sign a Petition
Write to the Osceola County Board of Commissioners, 301 West Upton, Reed City, Michigan 49677 and ask them to stop the release of animals from the Osceola County Dog Pound for use in experiments.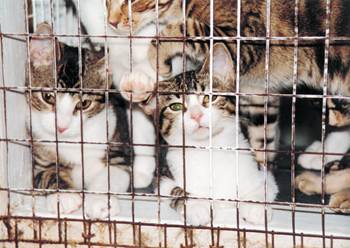 Photo courtesy of NAVS
Click below to copy our pre-written letters.
Or click below to Sign an E-Mail Petition

View My Guestbook
Sign My Guestbook

CLICK ON THE PUPPIES TO VISIT THIS LINK.